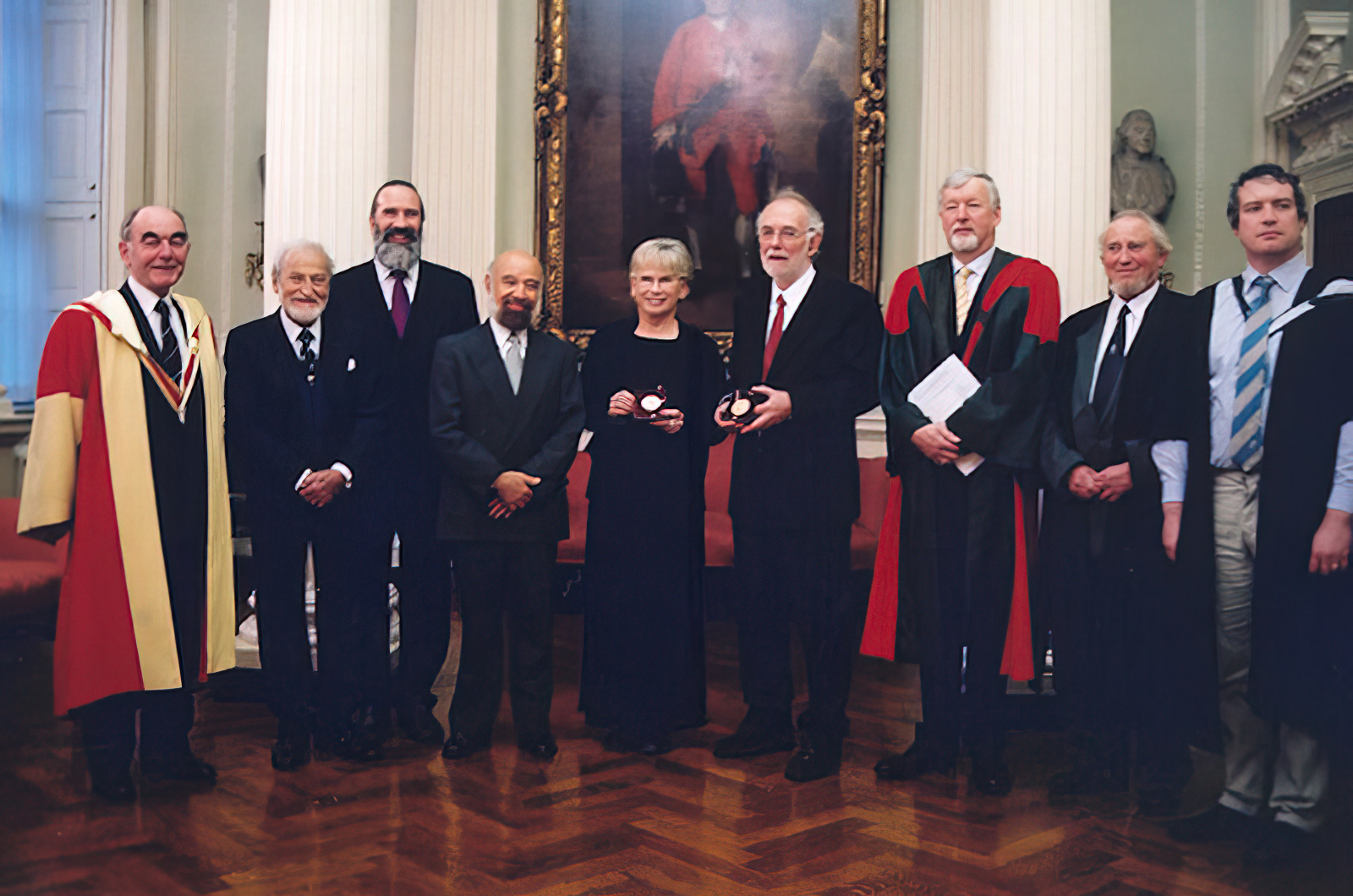 Date: 14 November 2002
Place of Ceremony: Trinity College
Host Institution: University of Dublin
Host Country: Dublin, Ireland
President  Rafael Estrada said during the message which he addressed during the World Cultural Council's Award -giving Ceremony, hosted by Trinity College, Dublin University, Ireland,  "I would like to thank the men of science like Professor Daniel Janzen, awarded today, dedicated to the conservation of the planet's biodiversity, and women ahead of their time like Professor Jeannie Oakes, a first-rate teacher of universal concepts which have favoured democratic changes in education. My admiration goes out to them and to all those who have added a great heart to a brilliant mind.

"Human beings of this stature are sure witnesses that we are on the right track and that, despite the dark clouds which surround us, we can live life with the optimism that this world and humanity will survive all its trials and tribulations, and that we can make of the new millennium, in which we are now living, the best millennium in history.
"I say this in all sincerity and confidence, I have faith in life, I have faith in man, and in that Being about whom Christ, Buddha, Parmenides, Aristotle Yajnavalkya and Shankaracharya, Nezahualcoyotl and Lao Tse all spoke. When priest and atheist recognize each other as the brothers that they are, when scientist and philosopher speak the same language – that will be the sign of the glorious future which we are awaiting in this new millennium."
The Rector of Dublin University, Dr John Hegarty, said that it was a great honour for him to celebrate the Award-giving Ceremony in Trinity College, and that he was delighted to be hosting an event which recognizes excellence at world level. He added, "Nowadays, I think, universities in the world must not only educate their students, but should impress civility on people, with a view to a social culture. This, more than ever before, is what the world needs and the presence today of the World Cultural Council is precisely due to work in this line."
Prof. Phillip Tobias, Vice-President of the World Cultural Council, referred to the grandeur and glory of Dublin, and brought to mind the great Irish writers and poets such as: George Bernard Shaw, Nobel Prize for Literature (1925); Oscar Wilde; Jonathan Swift and another Nobel Prize for Literature (1923), William Butler Yeats.
In his speech, Prof. Tobias stated that "the awards are "seed beds" through which inspiration is found, like that which the World Cultural Council gives in its recognitions of excellence. These express and strengthen the ideology of its founder, Dr. José Rafael Estrada, who has also been behind the creation of organisms like The Global Foundation and the prestigious Albert Einstein University, of international renown, located on the outskirts of Mexico City." To finish, he addressed the Maestro and said to him with great warmth and sincerity, "Accept this, Dr. Estrada, as a small tribute to your work".
After receiving the Albert Einstein World Award for Science 2002, for his contributions in the field of biological sciences, among which his applications for the preservation of natural resources are particularly outstanding, Prof. Daniel Janzen recalled that it was in the early 1950s, when he was only 14, in Veracruz, Mexico, that he had embarked upon what would later turn into, a professional career dedicated to the conservation of tropical biodiversity.
He thanked the World Cultural Council, and Dr. Estrada in particular for this award, especially since it is a prize which recognizes not only Biology as a branch of science, but also the impact that this science has on mankind, and he quoted verbatim an extract from the Maestro's recent speech, "A world culture which considers nature not as a victim, but as an ally. A culture which watches over the planet and does not destroy her beauty or pollute her elements".
Prof. Jeannie Oakes was the winner of the José Vasconcelos World Award of Education 2002 for her work in the field of teaching and social education, and is a leader who has influenced democratic educational policies in the United States. She said that she was fully satisfied to be carrying out her work in Los Angeles, California, one of the states with a majority of Latin students in schools, and that it was for precisely that Latin community which José Vasconcelos predicted a great future, which has not yet arrived.
"It is in the United States, like in many other parts of the world, that the distinction of race hinders the development of capabilities and impedes access to a better education for all, limiting instead of helping to expand people's abilities. My work therefore, like Prof. Janzen's, represents an effort to achieve democratic education, to make José Vasconcelos' visionary ideas come true, where quality, justice, and respect for each race, language and religion are evident. I am very proud to take this award to Los Angeles to share it and to deserve the honour which this work represents," she concluded.